CMHN provides expertise and resources to transition practices to Patient-Centered Medical Homes (PCMH). CMHN provides readiness evaluation, consulting, and resources to facilitate PCMH recognition.
What is a Patient-Centered Medical Home (PCMH)?
Building on the work of a large and growing community, the Agency for Healthcare Research and Quality (AHRQ) defines a medical home not simply as a place but as a model of the organization of primary care that delivers the core functions of primary health care.
Following the principals of a patient-centered medical home will lead to better health outcomes at a lower cost.
The Patient-Centered Medical Home has five attributes: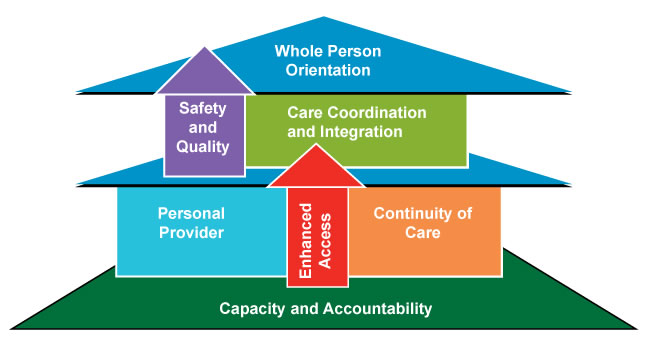 Patient-centered
- relationship-based with an orientation toward the whole person.
Comprehensive care
- is accountable for meeting the large majority of each patient's physical and mental health care needs, including prevention and wellness, acute care, and chronic care.
Coordinated care
- coordinates care across all elements of the broader health care system, including specialty care, hospitals, home health care, and community services and supports.
Superb access to care
- accessible services with shorter waiting times for urgent needs, enhanced in-person hours, around-the-clock telephone or electronic access to a member of the care team, and alternative methods of communication such as email and telephone care.
A systems-based approach to quality and safety
- demonstrates a commitment to quality improvement, including ongoing engagement in evidence-based medicine, performance measurement and improvement, patient satisfaction, and population health management.
-from Agency for Healthcare Research and Quality PCMH Resource Center, June 2012